In the News
Exciting Gate 5 updates and mentions will be posted here periodically. Be sure to check back for the latest news!
September 7, 2021
The Orange County Register – According to Martin Wisckol with the Orange County Register, "It's like a magic trick for poop.
Put it in one end of the machine, and out the other comes electricity, distilled water and a small amount of ash. And there's none of the greenhouse gas — namely methane — produced by traditional sewage treatment and sewage sludge decomposition.
Though it might seem futuristic, this innovative blueprint has attracted grants from the U.S. Department of Energy and the California Energy Commission, the latter to the tune of $1.6 million. The money is helping to fund a demonstration project at south Orange County's Santa Margarita Water District. Partners include Stanford University's Codiga Resource Recovery Center.

'The step we're going into now will validate us in the eyes of the industry," said Steve Delson, a former executive vice president at the Mission Viejo Co., a major developer, and now CEO of Gate 5 Energy, which has spent the past decade refining the technology." Having the recognition of the (state) grant and having Stanford aboard have also been very helpful.'"

To continue reading more about Gate 5 in the Orange County Register,  click here for the entire article.
May 10, 2021
Special Interview of Dr. Sebastien Tilmans by Industry Expert and Gate 5 Technical Advisor Mike Moore – Dr. Sebastien Tilmans, executive director of the Codiga Resource Recovery Center at Stanford University, recently shared his views on wastewater treatment today with Michael D. Moore, Gate 5's environmental compliance advisor and nationally recognized sustainable biosolids industry expert.

Moore: What is the mission of the Stanford University's Codiga Resource Recovery Center?

Tilmans: The Codiga Resource Recovery Center is an on campus test-bed facility dedicated to accelerating the commercialization of innovative resource recovery systems.

Moore: Would you share your view of conventional wastewater treatment and residuals management?

Tilmans: Conventional wastewater treatment is an approach that, for the wealthiest segments of the world (i.e. most of the urban US, Europe, and select urban areas in other regions) has enabled major advances in protection of public health and the environment. For the rest of the world, it is an expensive, unattainable pipe dream. Even in areas where conventional treatment has been deployed, costs are extremely burdensome and we are facing growing challenges to meet ongoing and future needs. For the sake of the billions of people in the world lacking adequate sanitation service and the utilities across the US struggling with rising costs and aging systems, the conventional paradigm is an antiquated, wasteful approach in desperate need of an overhaul.

Moore: Do you believe that we can improve upon this treatment and management?

Tilmans: Conventional treatment approaches wastewater as a hazardous substance requiring mitigation. We need to instead understand wastewater as raw material ore with impurities. If we remove the impurities, we can extract water, materials, nutrients, energy, and information from this valuable substance. We have many technologies at hand that can enable us to embrace this paradigm shift. The conventional paradigm uses energy (often derived from fossil fuels) to destroy renewable biomass energy. If we instead focused on harnessing that renewable energy, we would do much better.

Moore: What concerns do the public and scientific community have with these conventional management methods?

Tilmans: In addition to concerns over rising costs, large footprints, and aging systems, there are growing public health and environmental concerns. In arid areas, we need to make better use of every last drop of available water, so treatment systems need to be upgraded to enable water reuse. The climate footprint of conventional technologies is increasingly unacceptable. We are also developing a more sophisticated understanding of contaminants that were not previously a source of concern, such as microplastics, trace organic pollutants like pharmaceuticals or disinfection byproducts, and PFAS, the so-called "forever chemicals".

Moore: Has your research shown that there are better ways to treat the liquid and manage the solids?

Tilmans: There are numerous approaches coming online to better treat liquids, each with different implications for solids management. One approach is to abandon conventional aerobic treatment in favor of anaerobic secondary treatment. This approach would eliminate the energy-intensive aeration process while converting wastewater organic matter into renewable methane gas and dramatically reducing solids production. Another approach is to use advanced filtration methods to divert wastewater solids away from biological treatment, and maximize the conversion of solids into energy. This approach would also minimize solids production and improve energy production.

Moore: You mentioned microfiltration, how is this advantageous?

Tilmans: Advanced filtration systems could help pull solids out of wastewater early in the treatment process, before they enter the energy-intensive aeration process. Wastewater solids have tremendous energy. Pound for pound, dry human feces have more energy than coal. Diverting the solids early in the process makes it easier to dry them, or to manage them through other processes for energy extraction. Diverting the solids also makes it easier and faster to treat the remaining dissolved contaminants in the wastewater, enabling smaller treatment system footprints.

Moore: You mentioned the Gate 5 System, how is this advantageous?

Tilmans: The Gate 5 system is a technology that could dry wastewater solids and convert them to energy by combustion. Assuming the incoming solids are sufficiently dry, there should be enough energy within the solids to allow full drying and net energy production from their combustion.

Moore: Do you see any environmental, economic or other advantages to these processes?

Tilmans: As a thermal process, combustion of solids could provide a major advantage by reducing up to 90% of the amount of solids that have to be hauled away from a treatment plant. There may also be advantages to destruction of persistent emerging contaminants like microplastics. The impacts of this approach on the fate of contaminants like PFAS, and the air emissions of the process, need to be carefully investigated.

Moore: I understand that you have received a very prestigious U.S. Department of Energy Water Resource Recovery Prize winning paper: Get it Fast, Get it Early: Extracting Solids from Wastewater to Maximize Energy Recovery in May of 2020, would you please tell us some of the details?

Tilmans: We proposed a concept to the DOE that would combine advanced filtration technology with the Gate 5 approach to dry and combust resulting solids. This combination has the potential to transform treatment plants into net energy producers while dramatically reducing the amount of solids requiring disposal and shrinking the footprint of treatment plants. Over the next months and year, we will be evaluating this concept's potential.

Moore: Have you found public agencies to be interested in these innovative processes and do you see an application for these processes in other industries?

Tilmans: Public agencies face many mounting challenges, and are in general keen for solutions that will help them reduce costs and meet new regulations. This is particularly true in California, where organics diversion requirements from landfills and other necessary regulations to reduce climate emissions are making the old way of doing things impractical.

Moore: It sounds to me like utilizing the microfiltration and Gate 5 System would move an agency towards a more sustainable and self-sufficient operation, do you agree and do you have any closing comments?

Tilmans: These systems have a transformative potential. We're eager to evaluate it and publish results in the hopes of validating new approaches.

Prior to joining Stanford, Dr. Tilmans worked in the Process Engineering group at Oceanside Wastewater Treatment Plant for the San Francisco Public Utilities Commission. He was a Fulbright scholar, an NDSEG fellow, and an EPA STAR fellow. He is a licensed professional engineer in California.
April 26, 2021
Gate 5 Team Awarded $1.6 Million Dollar Grant by the California Energy Commission – Gate 5, in collaboration with Stanford University and MicroMedia Filtration is receiving a $1.6 million award from the California Energy Commission (CEC) to fund technology development and demonstration projects of promising pre-commercial technologies to increase overall energy efficiency and reach statewide decarbonization goals. The funds will be applied to the construction and operation of an energy-positive advanced primary and secondary wastewater treatment plant at Santa Margarita Water District's Chiquita Water Reclamation Plant. The district has agreed to contribute operating staff time and laboratory services, as well as the site for our proposed demonstration facility.
This project will introduce an energy-efficient process combining micro screens, advanced filters, and a moving-bed biofilm reactor (MBBR) to separate solids early in the wastewater treatment process, with Gate 5's innovative thermal process to convert the solids into a fine powder that is combusted to produce thermal energy and electricity to power the wastewater plant. Gate 5 System also improves public health and the environment by destroying contaminants of concern that survive the conventional activated sludge-based processes.
The CEC award follows our U.S. Department of Energy's (DOE), American-made Water Resource Recovery Prize winning paper, "Get it Fast, Get it Early: Energy from WW Solids." A second phase submittal to the DOE's American-made Water Resource Recovery Prize competition and applications for several other grants are underway with MicroMedia Filtration and Stanford University.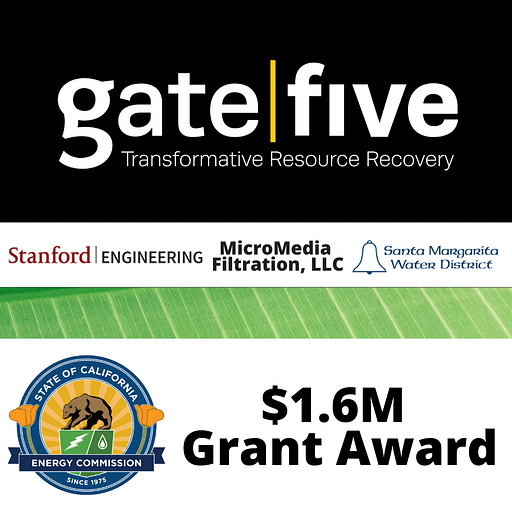 November 4, 2020
CONGRATULATIONS, MEGAN! – Gate 5 Director of Operations, Megan Yoo Schneider, was re-elected Division 7 Director for Municipal Water District of Orange County (MWDOC). During her second term, Megan will continue to champion sustainable, affordable, and resilient water supply, as well as resource planning solutions that will benefit our community, water, environment, public health, and advocate innovative water management solutions that can benefit the environment and the community like the Gate 5 System for transformative resource recovery.
ABOUT MWDOC: As a wholesale water supplier and resource planning agency, MWDOC's efforts focus on sound planning and appropriate investments in water supply development, water use efficiency, public information, legislative advocacy, water education, and emergency preparedness.
Division 7 includes the South Orange County cities of Aliso Viejo, Dana Point, Laguna Beach, Laguna Niguel, San Clemente, San Juan Capistrano, and parts of Laguna Hills and Mission Viejo.
September 7, 2020
The IMPACT – an online newsletter for people working on or interested in up-and-coming and trending sustainability & clean tech news that can have an impact on our climate, has interviewed Gate 5 management. Click here to view the interview.
---
Let's transform resource recovery together.
---